4.NBT.1 & 4.NBT.2: Place Value, Number Forms, Compare Numbers (Practice Sheets)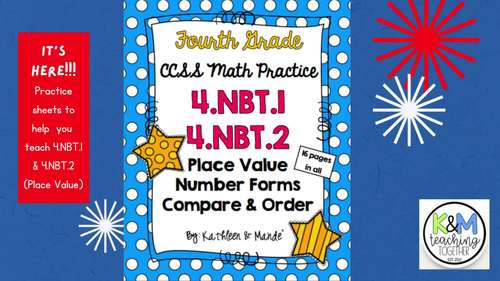 ;
Easel Activity Included
This resource includes a ready-to-use interactive activity students can complete on any device.
Easel by TPT is free to use!
Learn more
.
What educators are saying
I love these worksheets! They are differentiated and help students in each groups. My lower students like it because it takes them step by step.
This was a great way review place value with my students. The activities were a good level for my students and kept them learning and understanding the concepts. Thanks!
Also included in
This CCSS aligned bundle has everything you need to teach 4.NBT.1 & 4.NBT.2. By purchasing the bundle, you can save 15%! WOW! Click each link below to see each product's detailed description and preview.- - - - - - - - - - - - - - - - - - - - - - - - - - - - - - - - - - - - - - - - - - - - - - -

Price $15.95

Original Price $18.75

Save $2.80

Get all of our best selling practice sheets in one download! This product includes 425 practice sheets in all....including ALL 4th grade standards! You will have every sheet you need for the entire 4th grade year! Practice includes open response, word problems, and multiple choice. Save over 10% whe

Price $90.00

Original Price $103.00

Save $13.00

Teaching numbers and base ten operations? Grab this MEGA bundle with everything you need to teach all of your 4.NBT standards. Each standard below can be purchased as an individual bundle (click link) at a 15% savings. When you purchase this MEGA bundle you save even more....20%!What's included? The

Price $61.00

Original Price $76.75

Save $15.75
Description
This CCSS aligned place value packet includes 16 practice sheets to teach/reinforce place value, forms of numbers, and comparing/ordering numbers. These can be used to introduce a concept, review a concept, or send home as reinforcement for homework. An answer key is provided.
This resource can be used along with our other 4.NBT.1 & 4.NBT.2 resources:
4.NBT.1 Task Cards: Place Value
4.NBT.2 Task Cards: Forms of Numbers
4.NBT.1 Math Station: Place Value Power
4.NBT.1, 4.NBT.2, & 4.NBT.3 Math Station: Number Knowledge
….or purchase one of our bundles and save!
Save 10%....Practice Sheet Bundle!
Save 15%....4.NBT.1 and 4.NBT.2 Bundle!
Save 20%...4.NBT **MEGA** Bundle!
Number skills included in this packet:
- Identifying place value
- Comparing place value (10x more, 10x less, 100x more, 100x less)
- Standard Form to Expanded Form
- Standard Form to Word Form
- Expanded & Word Form to Standard Form
- Comparing two multi-digit numbers
- Ordering three multi-digit numbers
- Put It All Together Pages
Question formats include open response and multiple choice.
Enjoy! Teaching Together,
Kathleen & Mande'
Report this resource to TPT
Standards
to see state-specific standards (only available in the US).
Recognize that in a multi-digit whole number, a digit in one place represents ten times what it represents in the place to its right. For example, recognize that 700 ÷ 70 = 10 by applying concepts of place value and division.
Read and write multi-digit whole numbers using base-ten numerals, number names, and expanded form. Compare two multi-digit numbers based on meanings of the digits in each place, using >, =, and < symbols to record the results of comparisons.