Animal Habitats: Oceans Savannah Grasslands Woodlands Desert Rainforest & More!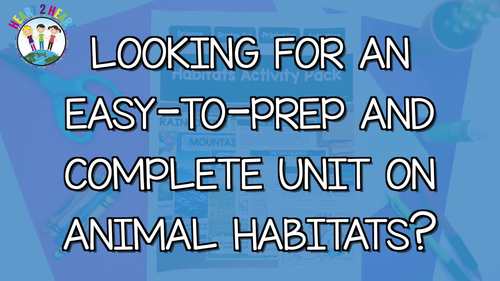 ;
Easel Activity Included
This resource includes a ready-to-use interactive activity students can complete on any device.
Easel by TPT is free to use!
Learn more
.
Easel Assessment Included
This resource includes a self-grading quiz students can complete on any device.
Easel by TPT is free to use!
Learn more
.
What educators are saying
The information provided by this resource really helped my students with their PBL project on animal adaptations.
My students found this very engaging, we really enjoyed this packet. I found it easy to use and little prep.
Also included in
Make teaching 3rd 4th Grade Science fun with these engaging with this Science Bundle for the Entire Year. This Science for the Year MEGA Bundle includes 12 of my BEST-SELLING Science Units for upper elementary students.Science Units Included:1. Weather 2. Solar System 3. Light and Sound4. Force and

Price $89.95

Original Price $129.00

Save $39.05

This Animal Habitats MEGA bundle includes reading comprehension passages, worksheets, activities, and vocabulary for 10 habitats: Oceans, Grasslands, Savannas, Wetlands, Deserts, Woodlands, Polar Regions, Mountain Regions, Tundra, and Rainforest. Your students will love learning all about these 10 u

Price $19.95

Original Price $28.50

Save $8.55

Four of our BEST-SELLING Units are in this Earth Science Bundle: Habitats, Animal Adaptations, Animal Classification, and Ecosystems. Each unit in the bundle includes reading passages, lots of activities, teacher pacing guides, vocabulary posters, tests, and more!What's Inside:1. Habitats Unit2. Eco

Price $35.35

Original Price $50.50

Save $15.15

Introducing the Habitats and Ecosystems Bundle, the ultimate teaching tool for engaging and educating your students about the wonders of our natural world. This dynamic bundle offers both printable and digital units for Google Classroom. Save money and time with these kid-friendly passages, hands-on

Price $29.50

Original Price $41.50

Save $12.00
Description
This BEST SELLING animal habitats unit includes reading passages and worksheets for 10 different habitats with fun & easy activities to reinforce learning. This NO-PREP pack is a huge TIMESAVER!
Have students read the passages and answer the comprehension questions about each habitat. Each passage has a habitat scene for students to color and connect to the information.
Oceans
Grasslands
Savannas
Wetlands
Deserts
Woodlands
Polar Regions: The Antarctic and The Arctic
Mountain Regions
Tundra
Rainforest
This unit also includes a unique activity where students work in pairs to design a mystery habitat poster to display. Then, they do a fun gallery walk around the classroom looking at each poster to try and figure out which habitat it represents.
A Digital Version of this unit for Google Classroom is available here.
"I posted the reading passages and posters around the classroom and printed off the habitat recording sheets and made a packet out of them. My kids rotated around the room as habitat explorers recording data about the habitats. They LOVED it! They were so engaged!" --Victoria W.
"AMAZING resource, jam-packed with lots of great material! I have used these materials to post around the room and have students moving around to certain areas to learn more about each habitat and then regroup and share their findings with other group members!" --Kathryn
"Thank you!! An awesome resource that can be used independently or as a supplement. Great for differentiation. I purchased the Animal Adaptations Nonfiction Resource Pack as well and recommend both." --Robin
This pack includes many interactive activities and learning opportunities for students including:
✔Reading passages about 10 habitats
✔Habitats Organizers (10)--one for each habitat
✔Anticipatory Set with True/False Questions
✔Habitats Booklet Cover Page
✔Vocabulary Posters
✔Vocabulary Flip Flaps
✔Mystery Flaps
✔Which Habitat is it? (A Fun Gallery Walk Activity)
✔Writing Prompt
✔Common Core Aligned
Be sure to check out the PREVIEW for more information
⭐THIS UNIT IS PART OF A SCIENCE MEGA BUNDLE⭐
There are 3 main activities:
Vocabulary:
Introduce the vocabulary words with the real-life photo posters included. You could post these posters around the classroom and have students travel around to match up and define the words in their flip flaps or use them as a center activity. These posters make an excellent bulletin board display in a snap!
Reading:
Have students read the passages about each habitat. The passages are written with questions and scenes for students to connect and color. Pages can be stapled at the top to make one large Habitas booklet.
Related Products
► Rainforest - Animal Habitats & Layers of the Rainforest - 140 pages!
► Animal Adaptations with Giraffes, Camels, Dolphins, Gorillas & Jane Goodall
CHECK OUT MY OTHER POPULAR SCIENCE UNITS:
JUST FOR YOU!! To assess the quality and see the style of my work please check out these two FREE activity packs by clicking below:
Subscribe to our NEWSLETTER to be notified of special giveaways, shop updates, and to see our products in action!
***********************************************************************
Please know I spend a lot of time researching, creating, writing, and proofreading my work but even after several revisions, there may still be a typo or grammatical error. Please let me know if you find a typo or feel that a correction is needed. Just click on the Ask a Question section or email me at [email protected] versus leaving negative feedback so I can fix it as soon as possible. I value your input to make my products the highest quality possible. Thank you in advance for your help and support!
Copyright © Heart 2 Heart Teaching LLC. All rights reserved. This file is intended for classroom and personal use only. Any redistribution or reproduction of part or all of the contents in any form is prohibited other than the following:
**You may print for personal, classroom, and non-commercial use only.
**Clipart, graphics, and photographs, found inside this product are copyrighted. They may not be extracted from this file without written permission from the original artist(s).
Report this resource to TPT
Standards
to see state-specific standards (only available in the US).
Ask and answer questions to demonstrate understanding of a text, referring explicitly to the text as the basis for the answers.
Determine the main idea of a text; recount the key details and explain how they support the main idea.
Describe the relationship between a series of historical events, scientific ideas or concepts, or steps in technical procedures in a text, using language that pertains to time, sequence, and cause/effect.
Determine the meaning of general academic and domain-specific words and phrases in a text relevant to a grade 3 topic or subject area.
Refer to details and examples in a text when explaining what the text says explicitly and when drawing inferences from the text.