*Science of Reading SoR Aligned Decodable Readers SATPIN Bundle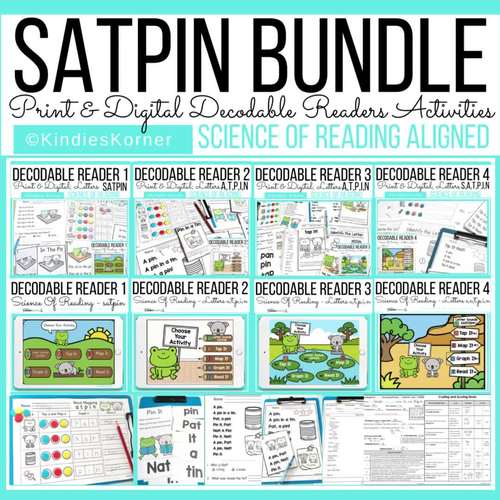 ;
Currently 532 + 368 Boom Cards
Compatible with Digital Devices
The Teacher-Author has indicated that this resource can be used for device-based learning.
Products in this Bundle (6)
showing 1-5 of 6 products
Description
This Science of Reading (SoR) aligned growing bundle features a comprehensive collection of print and digital activities for the letters SATPIN. The decodable readers and accompanying activities adopt orthographic mapping strategies to help students read words with the letters SATPIN and sight words 'the, a, in, on, it '. The printable and digital (PowerPoints, Boom Cards) interactive resources provide tapping, mapping, and graphing words practice to strengthen phoneme-grapheme associations. Words that are formed with the letters SATPIN are incorporated in interactive decodable readers as a culminating activity. Also included are comprehension, vocabulary, reading, writing, and mapping words sheets in addition to running records for each Decodable Reader.
Please note this is a growing bundle. This means consecutive decodables and accompanying activities are added to the bundle over time. The price will increase with each addition and the complete bundle will eventually include decodable readers.
If you've purchased previous packs included in this bundle, you will still be availing of the 50% discount this bundle offers as each new pack included was released at half price for the first 48 hours.
If you have previously purchased individual resources included in this bundle and would like to purchase this bundle, you can request a refund for the packs purchased here.
Each Decodable and accompanying print and digital activities feature the same cute characters that students will grow to love and be inspired to read about.
This bundle features words that can be decoded and read easily just with the letters S, A, T, P, I, and N. Other than VC, CVC words, students will also be introduced to blends like 'spin', and 'spit' in later decodables.
Why the letters S, A, T, P, I, and N? That's because the combination of these letters produce the most words and the two continuous sounds (sss for /s/ and nnnn for /n/) enable students to get started with word building. With the acquisition of these first initial graphemes and phonemes, students will be able to decode many basic words.
With the progression of each Decodable Reader, there will be a gradual build up of sight word vocabulary and number of words read, thereby building your students' reading stamina and consequently reading confidence.
Decodable Readers will also feature the use of punctuation markers to indicate tone and accurate pausing while reading.
Interactive PowerPoint Readers (PowerPoint Show, PowerPoint)
Printable 4-page Booklet (black & white, color)
Printable 1-page Booklet (black & white, color)
Comprehension Cards (teacher)
Flash Cards (words)
Orthographic Mapping Words Single Sheet
Reading Single Sheet (students can color the stars after each reading)
Activity Sheets x 5 (Comprehension, vocabulary, reading, writing)
Running Record Reading Assessment Sheets (student, teacher)
Boom Digital Cards (letter formation, orthographic mapping, reading, comprehension)
ACTIVITIES FOR DECODABLE READER PACK
1.
As an alternative or in conjunction with the boom digital deck, you may present the PowerPoint interactive reader on the whiteboard and have students practice orthographic mapping of words prior to reading the target text.
Note: For the orthographic mapping activity, click on the sound icon first to listen to the word. Then click on each chip or letter to have it move and represent each phoneme. The animation set up to map the phonemes and graphemes is initial consonant, final consonant, and medial vowel.
You may also split the PowerPoint into orthographic mapping and reading activities. The animation sequence can also be changed to show the initial consonant, medial vowel, and final consonant.
2.
Make individual copies of the printable booklets for students to practice reading. There is a choice of two; a 4-page larger size booklet and a 1-page smaller size booklet.
3. (teacher), and/or Student Comprehension Sheet
Use to assess students' comprehension skills.
4.
This sheet provides additional practice to tap, map, graph and write the words in focus.
5.
The activity sheets (comprehension, vocabulary, reading, writing) will provide students with additional practice.
6.
This Sheet provides students with additional practice with reading the target text. Students can color the stars after each reading.
7. (student and teacher's copy)
The Running Record Reading Assessment Sheets will assess a student's reading accuracy, self-correction ratio, reading fluency, reading rate, and comprehension. Included completed sample and instructions for how to use in file.
8.
The Home Menu features five activities. You can return to the Home Menu from any given card. The activities are numbered in sequence from 1-5.
In Activity 1, students will be introduced to the letter sounds for the letters SATPIN.
In Activity 2, students will identify the phonemes in words formed from the letters SATPIN. They will tap the letter sounds.
In Activity 3, students will map words formed from the letters SATPIN on the basis of their sounds. They will drag and drop each circle (chip) to represent a sound.
In Activity 4, students will graph words formed from the letters SATPIN. They will drag and drop letters into boxes to build the word using their knowledge of the phonemes.
Finally, students will read the target text that reinforces all the words formed from the letters SATPIN.
Audio files accompany each card and feature letter sounds, activity prompts, and activity instructions.
Thank you for stopping by!
------------------------------------------------------------------------
Australian Curriculum Standards
ACELY1649
Read decodable and predictable texts, practising phrasing and fluency, and monitor meaning using concepts about print and emerging contextual, semantic, grammatical and phonic knowledge
ACELY1653
Produce some lower case and upper case letters using learned letter formations
ACELA1433
Understand concepts about print and screen, including how books, film and simple digital texts work, and know some features of print, for example directionality
ACELA1434
Recognise that texts are made up of words and groups of words that make meaning
ACELA1786
Explore the different contribution of words and images to meaning in stories and informative texts
ACELA1818
Understand that words are units of meaning and can be made of more than one meaningful part
Total Pages
Currently 532 + 368 Boom Cards
Report this resource to TPT
Standards
to see state-specific standards (only available in the US).
Demonstrate understanding of the organization and basic features of print.
Follow words from left to right, top to bottom, and page by page.
Recognize that spoken words are represented in written language by specific sequences of letters.
Understand that words are separated by spaces in print.
Demonstrate understanding of spoken words, syllables, and sounds (phonemes).