Theme Activities with Google Slides™ and Forms™ Digital Activities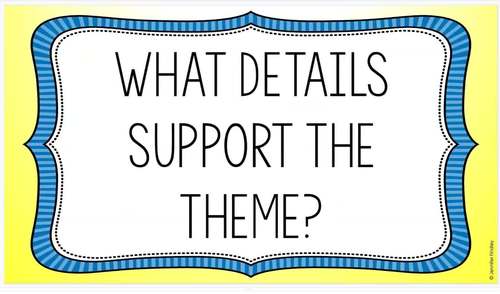 ;
PDF

Google Apps™
Includes Google Apps™
The Teacher-Author indicated this resource includes assets from Google Workspace (e.g. docs, slides, etc.).
Also included in
Do you teach 4th or 5th grade reading? This reading resource will be a lifesaver! It includes everything you need to supplement your reading instruction for the included reading skills (see below for the skills included).This HUGE reading resource is a bundle of 18 of my reading resources and readin

Price $77.00

Original Price $134.00

Save $57.00
Description
This themes in literature resource contains everything you need to teach theme to your 4th and 5th grade students.
NOTE: This resource now has Google Slides™ versions and a Google Form™ version, making it ideal for digital distance learning and remote teaching! Please see the 3rd page of the PDF for details and the links.
Since this theme resource spans 4th and 5th grade, you will notice that it contains a variety of resources for different theme skills and varying text levels and lengths.
****The texts in this resource are not available at multiple levels.
Click here to check out my Reading Units Bundle for 4th and 5th Grade that includes this resource and TEN other resources.
This Teaching Themes resource contains:
Teaching Posters **Also in Google Slides**
Essential Questions **Also in Google Slides**
Graphic Organizers and Interactive Notebook Templates **Also in Google Slides**
Rubrics and Checklists for Assessment **Also in Google Slides**
Suggested Mentor Texts
Four Sets of Passages (shorter passages, lengthier passages, and paired texts) - **Also in Google Slides**
Theme vs. Main Idea Sort **Also in Google Slides**
Theme Gameboard
16 Half-Page Task Cards **Also in Google Slides and Forms**
Activities and Options for Differentiation: Two Activities - **Also in Google Slides**
There are three sets of passages in this resource in addition to the 16 half-page task cards.
Set 1: This set includes 5 shorter and less complex passages. These are perfect for introducing and practicing determining the theme prior to moving to the lengthier, more complex passages.
Set 2: This set includes 3 stories that are lengthier and more complex than Set 1. Each story also contains one page of additional questions. The additional questions are to be used at your discretion. The additional questions do not address the concept of theme, but they may help the students understand the plot of the story.
Set 3: This set includes 3 paired stories for students to practice comparing themes used in different stories. Each pair of stories has the same/similar theme but is developed/presented in a different way.
Set 4: This set includes practice for a specific theme strategy that focuses on finding the challenge or problem, analyzing how the character(s) respond to the challenge/problem, and reflecting on the outcome of the response. They then use this to identify a theme of the story.
The following theme activities are included in digital format as well as printable (Google Slides unless noted).
Digital Theme Posters
Digital Theme Graphic Organizers
Digital Theme Practice Passages
Digital Theme vs. Main Idea Sort
Digital Theme Task Cards
Digital Theme Small Group Activities (see video preview)
Need More Theme Resources?
Click here to see my Determining Themes Flipbook.
Click here to see my Comparing Themes Sort and Activity Pack.
Click here to see my Determining Themes Puzzle Center.
Click here to see my recommended picture books for teaching theme.
You may also like:
4th and 5th Grade Reading Review Homework Bundle
4th and 5th Grade Reading Unit Bundle
Reading Interactive Notebook (with TEXTS)
4th Grade Reading Review Booklet
5th Grade Reading Review Booklet
Reading Review Flipbooks: Fiction and Informational
Thanks!
Jennifer Findley
Report this resource to TPT