Editable Teacher Planner Binder 2022-2023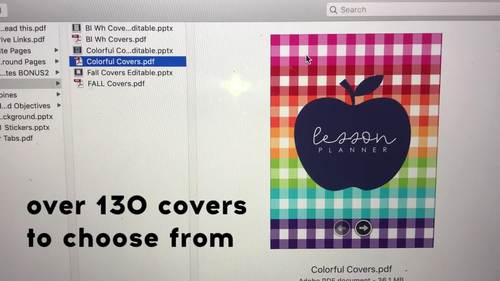 ;
K - 5

th
,
Homeschool
,
Staff
Zip

Google Apps™
Includes Google Apps™
The Teacher-Author indicated this resource includes assets from Google Workspace (e.g. docs, slides, etc.).
Description
yet beautiful designs that work! "After ten years of teaching and trying to piece together a patchwork organizational system (that I would eventually abandon by March), I have decided to let those who know how to organize effectively do it for me. :) I just bought and downloaded this product and wish I had had something like this for the previous ten years. I would have saved so much time! But I'm excited to implement this now and move forward, an organized, happy teacher that can focus on what she's good at. If I ever meet this seller, I shall hug her. I highly recommend this product. Get it. And then pat yourself on the back. " - Buyer: Fitted for 4th
Modern Teacher Planner / Teacher Binder ; 2022-2023 and growing!
*********Watch how easy it is to customize HERE and how easy it is to put together HERE! **********
Why THIS planner?
yet beautiful designs so you can maximize your pages and feel like a BOSS
easy to use
personalize to meet your needs
free monthly calendar updates each year
all the pages you need (choose to use these pages through Google Drive, Power Point, PDF)
simple links-clicks to add what you need to your Google Drive quickly
lists Common Core Standards K-5 Reading and Math only
Goodnotes/Other Note-taking APP compatible by saving as a PDF
helpful videos
2 bonus files
check out the video preview to see more
Who is this for?
Teachers looking to:
get organized quickly
start planning quickly
access information quickly
*PreKinder-8th Grade teachers
*self-contained or subject specific teachers
*check out the 3000+ 5 ***** star ratings below!
Design Options (Lesson Planning has never been so pretty!!):
Colorful inside pages to bring just the right amount of color to your days without being too overwhelming
Black and White inside pages for maximum flexibility
125+ Cover Options: both colorful and black and white; ready for you to personalize
What's included?
adjustable lesson planning pages (pages include a table so you can easily adjust the sizes to accommodate your needs)
standard weekly pages include: 5, 6, 7, 8 subjects with days of the week at the top and also includes days on the side

choose between all-on-one page or two-page spreads
standard daily pages include: 5, 6, 7, 8 subjects with areas to include standards/objectives (these columns can be adjusted or deleted as needed)
adjustable curriculum at-a-glance pages in a monthly view

Standard pages include 5, 6, 7, 8 subjects with weeks at the top
adjustable weekly and daily math planning pages (use what you need)

Whole group planning page
Small group planning page
Monitoring note page for anecdotal notes
Gradebook
Checklist page
Reteaching page for progress monitoring
adjustable weekly and daily reading and writing planning pages (use what you need)

Whole group planning page
Small group planning page
Monitoring note page for anecdotal notes
Gradebook
Checklist page
Individual Writing Conference
Writing Workshop Snapshot
Reteaching page for progress monitoring
unit mapping pages to get a bird's eye view of what you need to teach and where you are at
easy to edit and add your information:

Assessments Page (all assessments on one page)
Student Data Tracking Page (individual view for progress monitoring)
Monitoring Students Page (standard page comes with spots for 6 students but can be adjusted to fit your needs)
Monitoring Students Individual Page (individual view)
Data Collecting: Whole Group Note-Taking Page (for reteaching)
Data Collecting: Reteaching Page (for small groups or individual students)
Checklist Page
Gradebook Page
Attendance Page
easy to edit and add your information:

Class Roster Page
Class Schedule Page
Early Release Schedule Page
Specials Schedule Page
Birthday Page
Class Information Page (for contact information)
Student Allergy Page
Student Information (individual contact information)
Email List at-a-glance page
Transportation List (keep track of how students are getting home)
Parent Contact Log (keep track of when you are talking to parents/guardians and what you discussed)
Admin Information (keep track of key contact information)
Technology Access and Permissions Page (who is allowed/not allowed)
Technology Teacher Info and Passwords Page (for you to keep track of your own passwords)
Technology Student Info and Passwords (for individual students)
Student ID Numbers Page (numbers school assign to students)
Class Numbers Page (numbers you assign to students)
Meeting Note-Taking Page (keep track of all your meetings and action steps)
Parent Teacher Conference Page
Here's What You Missed (for students who are absent)
Classroom Volunteers Page
Volunteer Note-Taking Page
Support Staff In Our Classroom Page
Students with Special Services Page
Substitute Plan Page
Important Contacts Page (for colleagues and other support staff)
Seating Chart (includes options for both tables and for desks)
Any questions? Let me know! I'm a current 5th grade teacher and I'm happy to help!!!! ~April ([email protected])
Commonly asked questions:
How do I get updates?
Click on "My TpT, then "My Purchases". On this page, you will see this listing by either searching for the title in the search box OR scroll to find. Click on the "Redownload" link to get the updated version. Be sure to not click on the listing's title. Only the 'redownload' button. Check this page each Spring for the upcoming year.
Can I use this on GoodNotes or other note-taking APP?
Absolutely! Just save what you need as a PDF.
Can I use this on a note-taking APP, on an android?
Absolutely! Just save what you want to use as a PDF.
Do you have any other tips?
YES!! Head to my blog and sign up for the email newsletter!
Thanks for your interest! ~April :)
Want freebies to help PLAN and ORGANIZE? I love sending some! So sign up!
Teaching Duration
Lifelong tool
Report this resource to TPT