End of Year Awards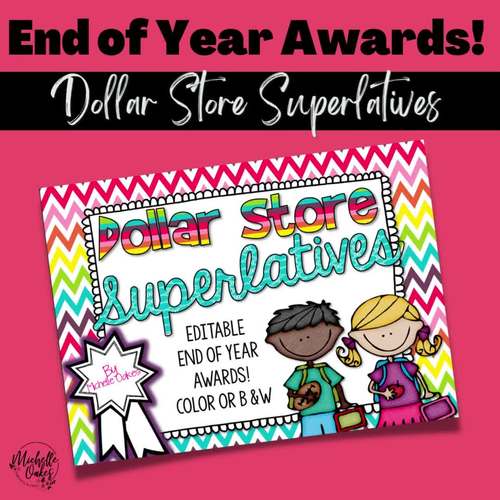 ;
What educators are saying
I got so many compliments on these awards and my students loved the prizes! I plan to use them again next year! The gifts were so easy to find!
This was my favor EOY certificate! The kids loved guessing who would get what, and they loved getting little prizes (and I loved shopping for them!)
Description
This TOP 10 BEST SELLER includes 27 End of the Year Awards. These fun awards can be accompanied with or without a cute coordinating dollar store prize. All prize ideas are included, as well as photos of some of the items I purchased for the awards. This pack includes both colored and black & white versions. I have enabled rich text formatting so you can change fonts and sizes. To do so, you click ctrl e on a PC and command e on a Mac. Then highlight the font you want to change and change in the box that pops up. These end of year awards are also editable in that you can add your student's names and the date. You can click on where the student's name goes and type it in, as well as add the date on all awards with just one click. There is also a link to a separate editable pack where you can change to your own font and type in the info. In addition, I have added the colored version to google docs so you can send them virtually.
THIS SET CONTAINS 68 PAGES.
- Most Bubbly: Bubbles
- High Achiever: Kite
- Oh So Sweet: Sweet Tarts
- Handy Helper: Clapper (hands)
- Happy Helper: Hula Hoop
- Mr. and Ms. Fix It: Erasers
- Super Speller: Stickers/Spelling Stickers or Suction Cup Ball
- You're So Bright: Sunglasses
- Sunshine Award: Sunglasses
- So, So Silly: Silly String
- Fun and Flexible: Putty
- Fantastic Friend: Friendship Bracelet
- Handwriting Hero: Hi-Liters
- Most Musical: Harmonica or Recorder
- Science Star: Bag of Insects
- Glowing Example: Glow Stick Bracelets
- Stick To It: Smelly or Colored Glue Sticks or Suction Cup Ball
- Sports Star: Any Sporting Item
- Wonderful Writer: Pack of Pencils/Pens
- Most Growth: Grow Animal
- Rockin' Reader: Pop Rocks or Book
- Cheer Award: Pompoms
- Math Magicians: Magic Kit or Playing Cards or Rubik's Cube
- Awesome Artist: Construction Paper or Paint
- Participation Award: Jump Rope
- Banker Award: Bank
- Super Thinker Award: Slinky
- Most Creative: Spray Chalk (Target)
⭐Staff Awards: Virtual Teaching Edition


⭐https://www.teacherspayteachers.com/Store/Michelle-Oakes


⭐Instagram.com/fabulousinfirst
Report this resource to TPT