High School Entrepreneurship: Create Your Own Business and Start It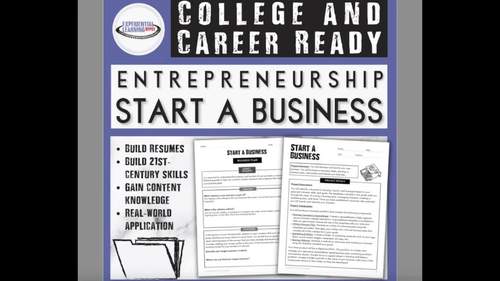 ;
Easel Activity Included
This resource includes a ready-to-use interactive activity students can complete on any device.
Easel by TPT is free to use!
Learn more
.
What educators are saying
Liked that it was ready to use and easy to follow and met my needs perfectly for a project to create a business.
It was a helpful resource to my unit. The kids liked how useful it was and how much fun they had during the process.
Also included in
This bundle includes project-based learning lesson plans that focus on resume builders for high school students.All projects project experiences are student-directed. Students design and lead their resume-building project experiences while you facilitate.Because you aren't planning and teaching less

Price $22.93

Original Price $32.75

Save $9.82

Are you looking for practical and real-world high school career education resources that will prepare students for life beyond high school? Are you required to include college career ready high school curriculum, vocational education, and/or technical education this year, but aren't sure where to st

Price $31.00

Original Price $38.75

Save $7.75
Description
This high school entrepreneurship resource guides students through the process of not only creating their own businesses but starting and managing them as well!
The materials included in this high school entrepreneurship resource guide students through the process of developing:
A business idea
A business plan
A marketing plan
A business website
A spreadsheet for managing business operations
Developing business ideas and writing business plans are profound learning experiences in themselves that include a variety of content-building opportunities and 21st-century skill-building, but actually starting the businesses adds even more:
Problem-solving
Creativity
Communication
Budgeting
Forecasting
Writing
Leadership
Collaboration
Networking
Organization
Planning
and more!
College and career readiness require learning that is real and meaningful. Students use the content knowledge and skills gained from this experience and apply it to their lives in an impactful and tangible way.
This high school businesses resource includes:
Teacher guide - The teacher guide includes a project description and an implementation guide.
Create your own business project description and business portfolio checklist
High school businesses brainstorming tools
Guiding materials for market research
Business proposal template
Business operations spreadsheet template - This template includes a variety of spreadsheets related to business operations including business budget.
Business plan checklist
Business plan outline templates
Guiding materials for building business websites
Business plan rubric
Business portfolio (overall project) rubric
This experience is a great summer resume builder, an awesome way to make some extra cash, and deepens the learning experience astronomically.
Timeframe: The 1-month timeframe is based on how long it will take for students to develop their businesses. This timeframe does not include launching and running businesses. How long businesses run beyond the development phase is up to each individual student.
NOTE: This resource includes a PDF printable version and a digital Google Slides version. The resource is not editable at this time.
This resource is included in the following bundles:
Check out other resources relevant to this one:
Check out these blog posts for additional assistance with this resource:
Looking for free resources that go well with this resource?
Interested in new resource alerts, freebies, tips, tricks, and more?
Earn TPT Credits:
Follow Experiential Learning Depot and earn TpT credits by giving feedback on this product. A sincere thank you for your business. Feel free to contact me through email at any time with questions on this product - [email protected]
Cover Font Credit: Mr FISK Fonts
Teaching Duration
1 month
Report this resource to TPT
Standards
to see state-specific standards (only available in the US).
Analyze decisions and strategies using probability concepts (e.g., product testing, medical testing, pulling a hockey goalie at the end of a game).
Write informative/explanatory texts to examine and convey complex ideas, concepts, and information clearly and accurately through the effective selection, organization, and analysis of content.
Introduce a topic; organize complex ideas, concepts, and information so that each new element builds on that which precedes it to create a unified whole; include formatting (e.g., headings), graphics (e.g., figures, tables), and multimedia when useful to aiding comprehension.
Use appropriate and varied transitions and syntax to link the major sections of the text, create cohesion, and clarify the relationships among complex ideas and concepts.
Establish and maintain a formal style and objective tone while attending to the norms and conventions of the discipline in which they are writing.